New addition to
the skyline
Regulars to the park will have noticed a new addition to the park skyline; an object apparently fallen from space!
This new addition, a sculpture 'The Juggernaut of Nought' by Richard Trupp, a local artist, is on loan to the park and was officially unveiled June 2018.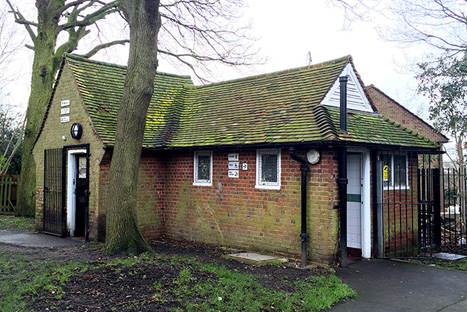 Council responds
to toilet closure petition
The Friends were informed by Lambeth that the public toilets in the park would be permanently closed in April 2017.
The Friends petitioned and gathered over 140 signatures to delay the closure of the public toilets, so that the Friends can work with the Council on providing alternative facilities in the park.
The following is Lambeth's response to the petition:
Lambeth intend to keep all toilets in parks open for the 'next few months' while they evaluate costs and options.
They have stated they will consult with Friends groups during the summer and then make a decision on the future of toilets in parks.
Their aim is to maximise provision within the constraints of the resources available, and explore ways of reducing costs of providing services which 'minimise the actual impact on public-facing services.'
They have stated that it may mean a change to seasonal to weekend opening times.
Planning application withdrawn
Many park users and local residents contacted us regarding the Councils proposals to build an artificial grass sports pitch on the MUGA in Norwood Park.
On your behalf along with other local residents we met with Council officers to talk about your concerns. The loss of amenity, loss of trees, open access for the community, traffic impact, parking, lighting, operating times, toilet facilities in our park and our local community Having raised these issues with Lambeth we can now confirm that
"following a series of discussions with councillors the Council will not be progressing with the proposals to build an artificial grass sports pitch at Norwood Park".
It is great to know by joining together and talking to the Council and Councillors we can influence decisions that impact on our park and our local area.
Planning application for the development of the MUGA (Multi Use Games Area) is available on the Lambeth planning website.
https://planning.lambeth.gov.uk/online-applications/applicationDetails.do?activeTab=documents&keyVal=O2ZQGMBOHIF00
We're so excited to receive such a glowing review about our cafe in the park.